Grand Theft Chaco II: The Vice Continues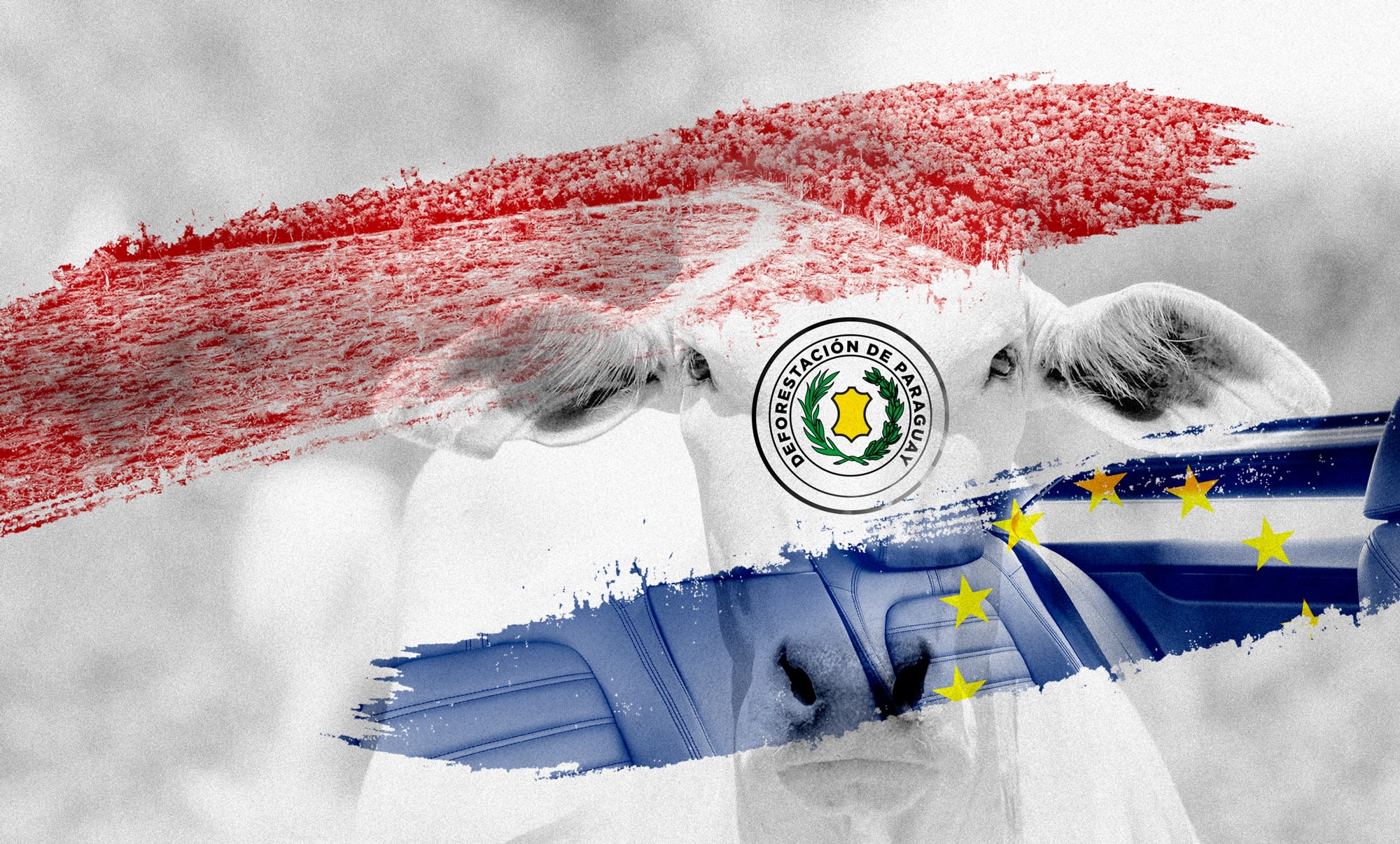 In 2020 Earthsight revealed the shocking links between the leather used in cars made by BMW and Jaguar Land Rover and the illegal destruction of the lands belonging to some of the last uncontacted peoples in the Americas.
But as of today, little has changed. Paraguayan authorities have not investigated the illegalities exposed or implemented measures to protect Ayoreo Totobiegosode lands from ongoing invasions and deforestation.
Leather exports from implicated firms in Paraguay to European tanneries serving the car industry have continued unabated. None of the big car firms can yet trace their leather back to origin and thus be sure it is clean.
Fresh proof of the continued presence of uncontacted groups in the protected territory concerned surfaced earlier this year. For the first time in many years, the voices of uncontacted Ayoreo were heard by their settled cousins, singing to them at night of their struggles with the continued invasion of their land.
Meanwhile, the importance of halting the destruction of Paraguay's Chaco for cattle ranching has been underlined by new evidence showing it contains nearly 20 times as much carbon per hectare as previously thought.
This sobering reality demonstrates the urgent need for major consumer markets – including the EU and UK – to introduce robust regulations to stamp out their ties to illegal practices, human rights violations, and forest loss overseas.
In September 2020, Earthsight revealed how land belonging to an indigenous people in the Paraguayan Chaco had been illegally cleared for cattle ranching. The investigation exposed the links between these illegal clearances and leather used by car giants BMW and Jaguar Land Rover.
Grand Theft Chaco offered a rare insight into the ongoing destruction of the Chaco – a diverse biome of dry forests, wetlands, and savannas – and provided yet more reasons why consumer markets must ban the import of commodities linked to environmental and human rights abuses.
The report created waves among the media and public in Paraguay and made headlines worldwide.
At the heart of the investigation was PNCAT, a protected territory that is home to the last uncontacted peoples anywhere in the Americas outside the Amazon: the Ayoreo Totobiegosode.
Two ranches within PNCAT – Caucasian SA, and a farm belonging to an associate of Cooperativa Chortitzer – were found to have illegally cleared over 2,700 and 500 hectares respectively between 2018 and 2019 in contravention of government resolutions. A third farm, Yaguareté Porã, has a long history of illegal land dealings and pasture development within PNCAT dating back nearly 20 years.
Through a combination of field research, undercover meetings, trade data analyses, and exchanges with car manufacturers, Earthsight was able to link hides from PNCAT to an Italian automotive leather giant called Pasubio and on to BMW and Jaguar Land Rover. Pasubio is the leading buyer of Paraguayan leather, and Jaguar Land Rover is its largest customer. 
Many other car firms were discovered to be sourcing leather from the Italian tanneries implicated in the scandal, including Volkswagen, Stellantis (former Groupe PSA), and Ford. Though these firms were all assured by their Italian suppliers that their purchases didn't include Paraguayan hides, none had the necessary policies or traceability systems in place to be certain of this, or to avoid wider associations with deforestation and associated human rights abuses.
The report and follow-up publications laid bare the Paraguayan state's failure to uphold environmental laws and protect indigenous rights, enabling illegalities to flourish unchecked for years. Earthsight detailed how a widespread culture of corruption and inaction had taken root in the country's environment ministry, allowing farms to receive irregular deforestation permits that were often granted after forests had been cleared.
Our investigations also revealed a spate of apparently illegal fires at the Caucasian and Chortitzer ranches within PNCAT a month after the publication of our report, as well as the illicit land deals that fuel further occupation and destruction of protected areas.
REVEALED: In early October, Paraguay declared a national emergency as fires raged, with 50,000ha of Chaco destroyed...

Now, Earthsight has discovered around 300 fire hotspots at cattle ranches that feed into BMW & Jaguar Land Rover leather supply chains: https://t.co/4FycP8Bg2t

— Earthsight (@earthsight) October 21, 2020
One year on, little has changed. PNCAT continues to be the target of illegal invasions and deforestation, Paraguayan authorities have failed to investigate the illegalities exposed by Earthsight, and the global leather and car industries are still unable to demonstrate how their supply chains are shielded from these problems.
Following publication of Grand Theft Chaco, Earthsight, MEP Anna Cavazzini, and a group of Paraguayan and international NGOs publicly called on Paraguayan authorities to investigate the cases of illegal deforestation at Caucasian and the Chortitzer farm, as well as whether the 200-plus fires at Caucasian in 2020 were in breach of the law.
There is no indication such investigations have taken place. In response to a freedom of information request submitted by Earthsight, Paraguay's environment ministry said it has no record of the illegal deforestation highlighted in Grand Theft Chaco. On the fires at Caucasian, it stated it is up to municipalities and not the ministry to determine whether they constitute illegal acts.
Infona, Paraguay's environmental enforcement agency in charge of issuing deforestation permits, did not reply to Earthsight's request. However, an investigation carried out by media outlet El Surti revealed in April that Infona had not investigated the fires and admitted to not having identified a single culprit.
The Paraguayan authorities haven't just ignored the evidence of illegalities.
Without bothering to check the facts, they have sought to defend the companies responsible. In October 2020, Italian newspaper Corriere della Sera reported that Pasubio, when confronted with Earthsight's findings in advance of publication, had sought assurances from Paraguay's ministry of industry and trade that the company's suppliers operate in compliance with the law. According to Pasubio's CEO, Luca Pretto, the ministry responded that "the production sector and the national industry of products and by-products related to pastures have been working for decades alongside the State in compliance with the regulations."
Pretto told Corriere: "With this we felt protected. We have neither the power nor can we have the burden of having to question the government of a country that guarantees us this."
Far from punishing the firm for its apparent breaches, both Infona and the environment ministry have signed cooperation agreements with Chortitzer in recent months. Infona's agreement even goes as far as to refer to Chortitzer as a company "committed to complying with current environmental laws." It is clearer than ever whose side the Paraguayan authorities are on, and it is not the side of the law, let alone the country's indigenous people.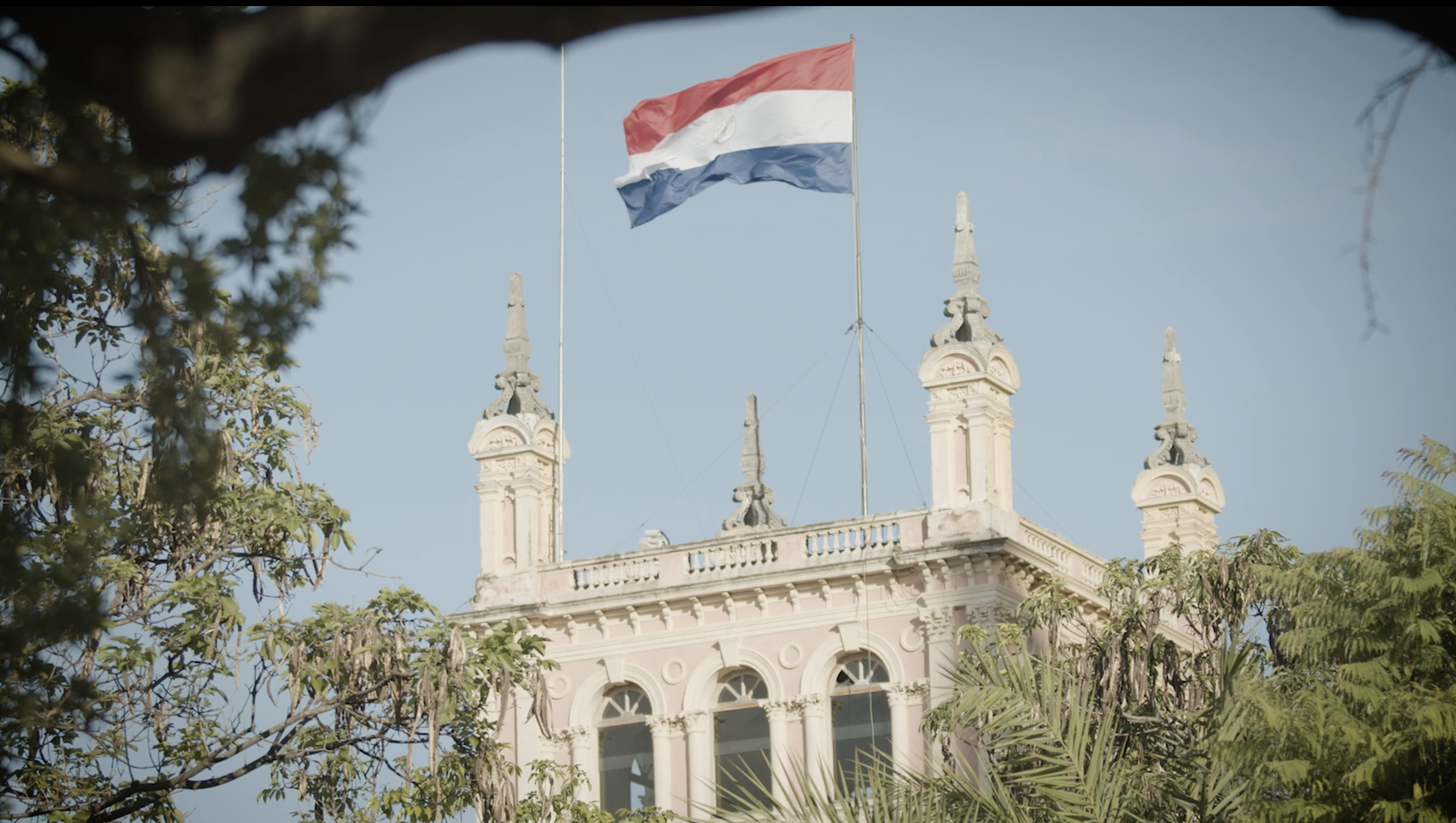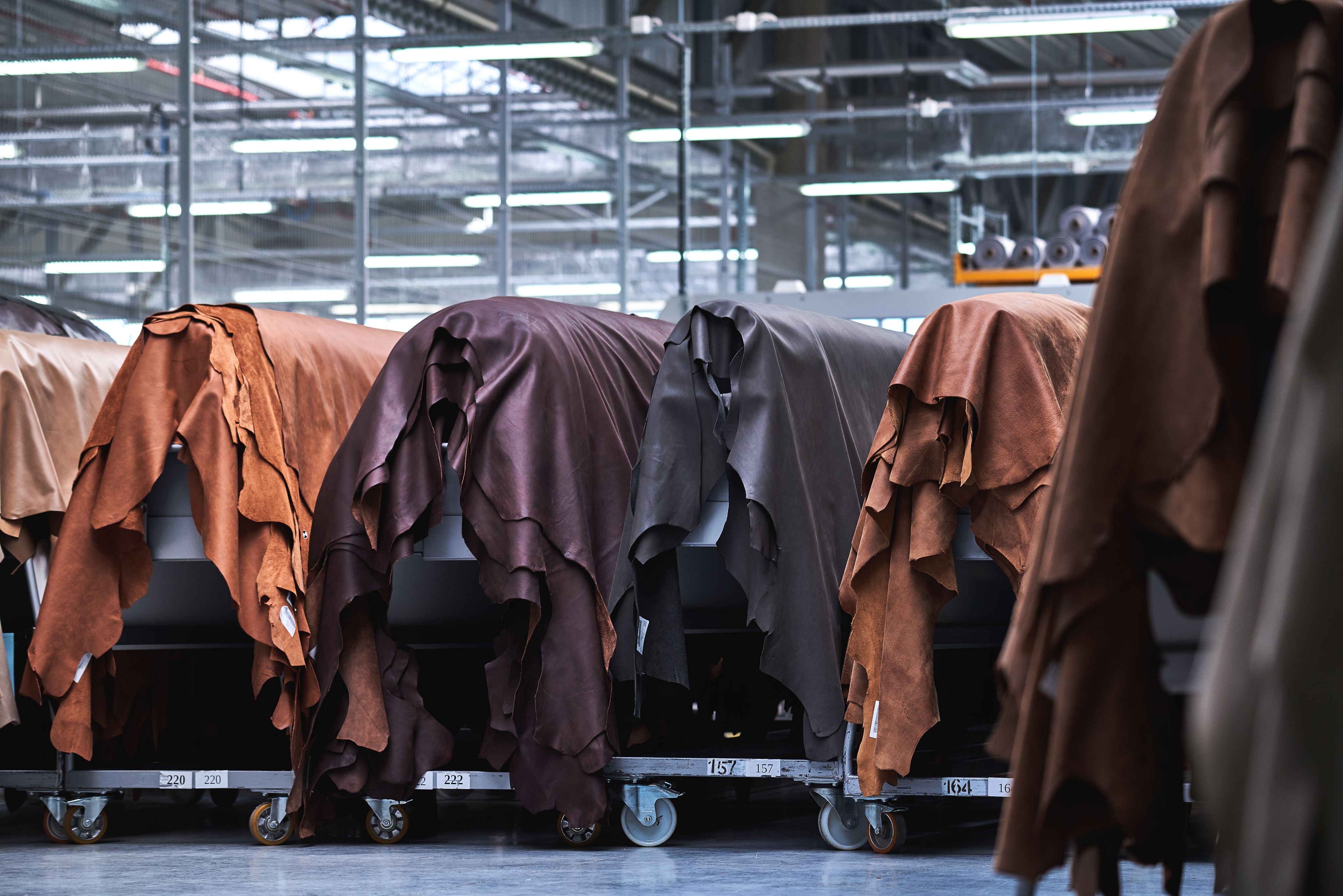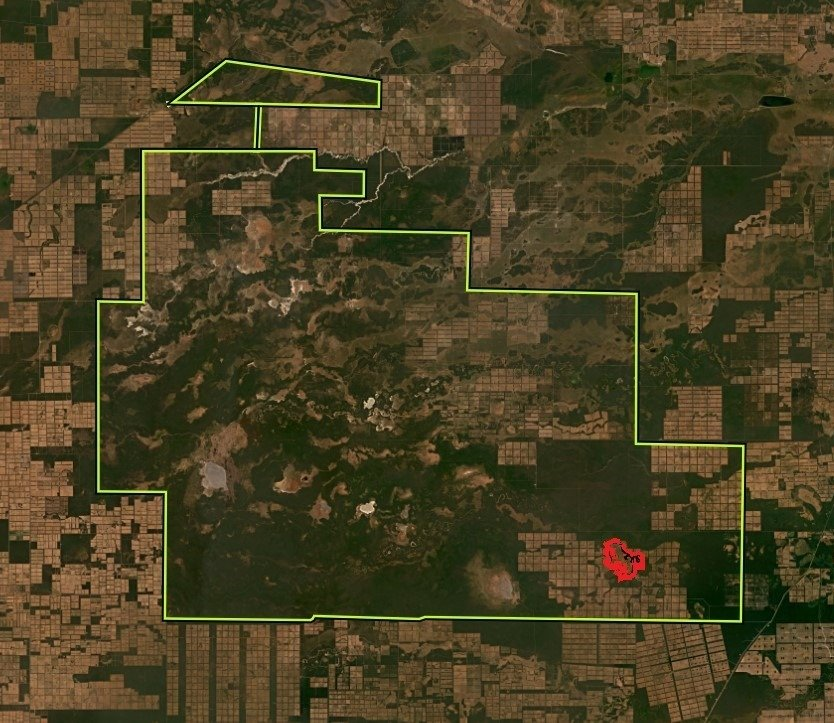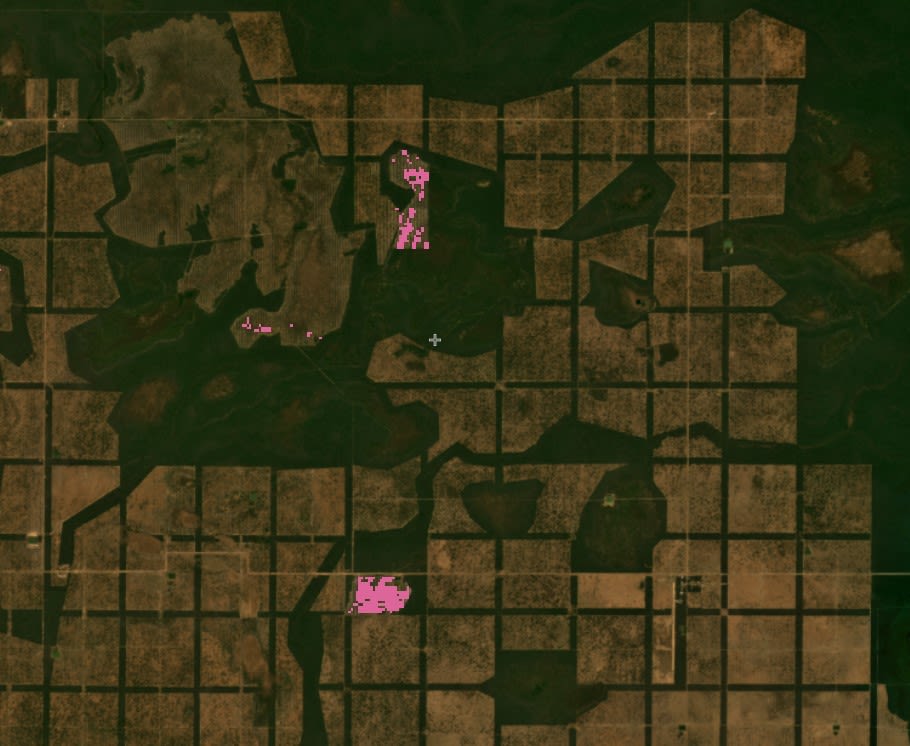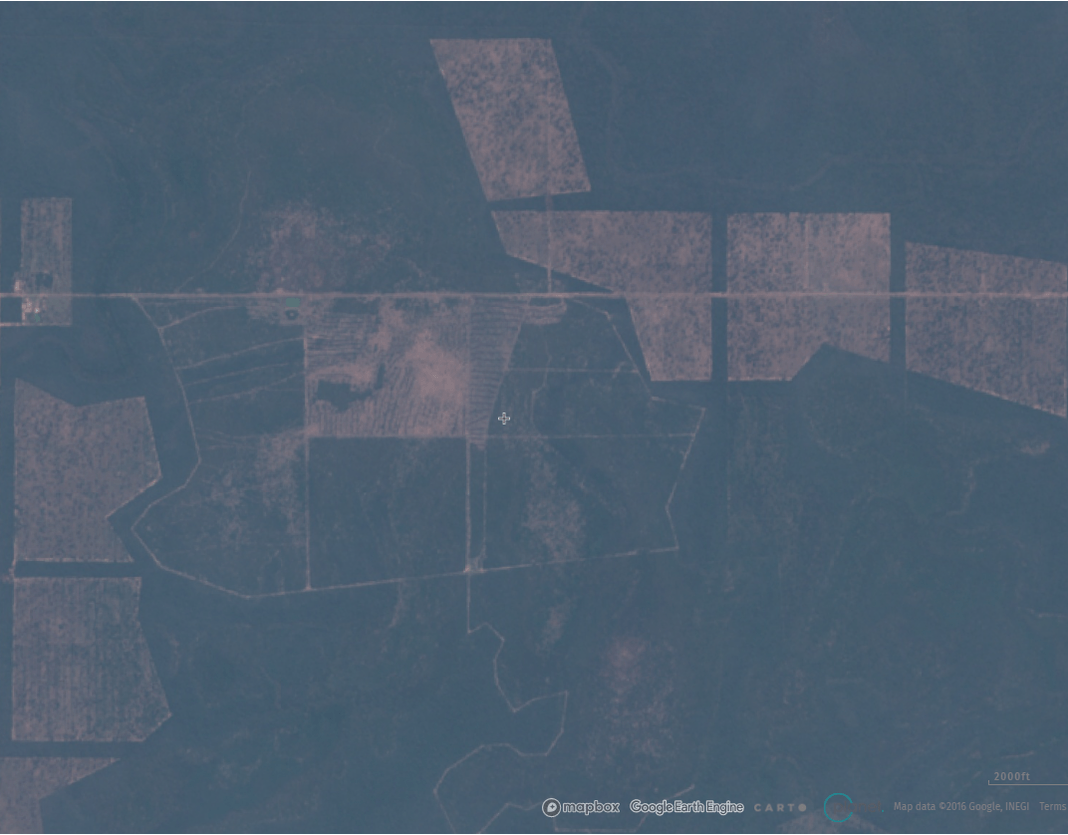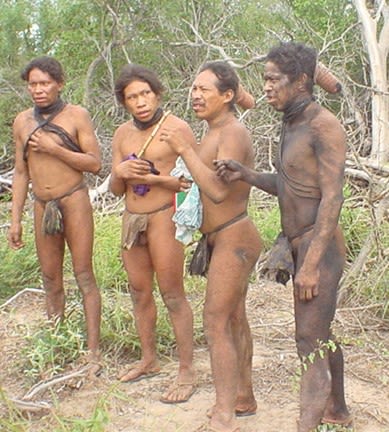 This lack of accountability has encouraged new illegal activity. Earthsight analysis of satellite data provided by Global Forest Watch reveals that forest clearances for agriculture have continued at PNCAT. At least two new areas were cleared between August 2020 and April 2021 as the figure below shows. Around 100 hectares of this clearance took place in densely forested land. 
Totobiegosode representatives have also submitted complaints to public prosecutors denouncing fresh illegal invasions and forest clearances by settlers, including close to a lagoon traditionally used by uncontacted groups.
As noted in Grand Theft Chaco, a 2018 government decision to suspend all land management plans for properties within PNCAT has rendered any such clearance there unequivocally illegal.
The importance of action to protect PNCAT was dramatically highlighted this year as the strongest evidence in many years emerged of the continued existence of uncontacted Totobiegosode groups in the area and their fears about what is happening to their territory.
Julio Duarte, a lawyer representing the Totobiegosode, told Earthsight that in January and February 2021, a band of uncontacted Totobiegosode approached a community of their settled cousins in the southern part of PNCAT at night, and sang to them of their worries about the continued encroachment of outsiders.
Duarte alleges the Paraguayan government has done "absolutely nothing" to comply with the Inter-American Commission of Human Rights' (IACHR) 2016 request to protect PNCAT and fully restore it to the Totobiegosode. This leaves the indigenous communities with no other alternative than to "invest time and resources in pursuing criminal cases" against illegal occupiers.
"The Totobiegosode would have no need to resort to prosecutors and the judicial branch if the Paraguayan state had taken the IACHR's request seriously. Illegal invasions and deforestation would have ceased if the government had fulfilled its obligation to find a solution to this situation," Duarte said.
Inaction by Paraguayan authorities has led the Ayoreo Totobiegosode to conclude the government is not serious about protecting their rights or saving the Chaco from destruction. The community recently withdrew in frustration from dialogue with the government mediated by the IACHR.
As one of its representatives explained: "After having participated in most of the 42 meetings [with Paraguayan authorities], I can confirm that the government doesn't keep its word, that it lies and doesn't want to protect my people or return the lands that we've always lived in and cared for." The community is instead calling on the IAHCR to get tough with the Paraguayan government over their continued failure to act.
In the meantime, Paraguayan leather sales to Europe have continued apace. Exports in the first four months of 2021 totalled 9,424 tonnes, a substantial increase from the same period in 2020 (7,084 tonnes). Two of the three Paraguayan leather exporters highlighted in Grand Theft Chaco as having supply chains tainted with hides from PNCAT have actually increased their shipments to Italy since the report was published.
Trade records also reveal continued shipments to Conceria Pasubio, the car leather specialist we found was the conduit for leather from illegal clearance in PNCAT ending up in cars made by BMW and Jaguar Land Rover. Nearly three-quarters of the leather shipped to Italy since our report was published came from Paraguayan firms Earthsight had exposed for having supply chains contaminated with dirty goods.
Earthsight has found that none of Europe's largest car companies are yet able to trace their leather back to origin.
The car industry has missed another opportunity to be more transparent about supply chain monitoring. More than a year after first contacting them, Earthsight again submitted questions about their policies and traceability to the big European car companies. The responses we received suggest little significant progress has been made.
BMW said an audit commissioned by the company after publication of our report "clearly shows that the BMW Group's leather supply chain has no connection to deforestation in Paraguay." The firm provided no details on how the audit was conducted or its specific results. It did not reply to questions about its current traceability practices. It also declined to answer a question about whether it had been implementing a medium-term strategy previously announced to Earthsight to phase out South American hides from its supply chains.
Jaguar Land Rover stated that its supplier (Pasubio) had assured the car firm that following an 'extensive investigation' it had found 'no evidence of any violation of national law'. Yet the only investigation Pasubio has admitted to doing is obtaining a blanket assurance from a Paraguayan ministry which doesn't even have jurisdiction over the relevant laws. Once again, Earthsight's efforts to learn more from Pasubio directly went unanswered.
In its update to Earthsight, JLR also claims that in December 2020 it invested in blockchain technology that "can trace valuable raw materials throughout a global supply chain from origin to supplier." But it did not specify if this includes tracing leather back to farms of origin – the only level of traceability that really matters
Ford admitted to Earthsight that there had been no significant change to its leather sourcing policies since our report was published. We can only assume the same is true of their competitors (and fellow Pasubio clients) Volkswagen, Stellantis (which includes Peugeot, Citroen & Vauxhall/Opel) and Hyundai, since they did not respond to the contrary. The car firm which had scored the highest last time, Volvo, admitted in its response that even it still wasn't able to trace all its leather to farm. Perhaps in part out of frustration over this, it recently decided to phase out leather altogether.
Grand Theft Chaco revealed that even when exporting tanneries in Paraguay have wanted to implement more robust traceability systems, European customers were uninterested in paying more for this effort. Nothing we have seen suggests this has changed. Meanwhile the response of the industry's voluntary sustainability scheme – the Leather Working Group (LWG) – to Earthsight's report verges on the comedic. In February 2021 they inserted a new clause requiring auditors to assess whether tanneries can be sure they aren't using hides from illegal clearance in the Paraguayan Chaco. Yet promises to this effect are given points even when unsupported by evidence – and even firms scoring 'zero' on this new criterion still receive LWG's highest 'gold' rating.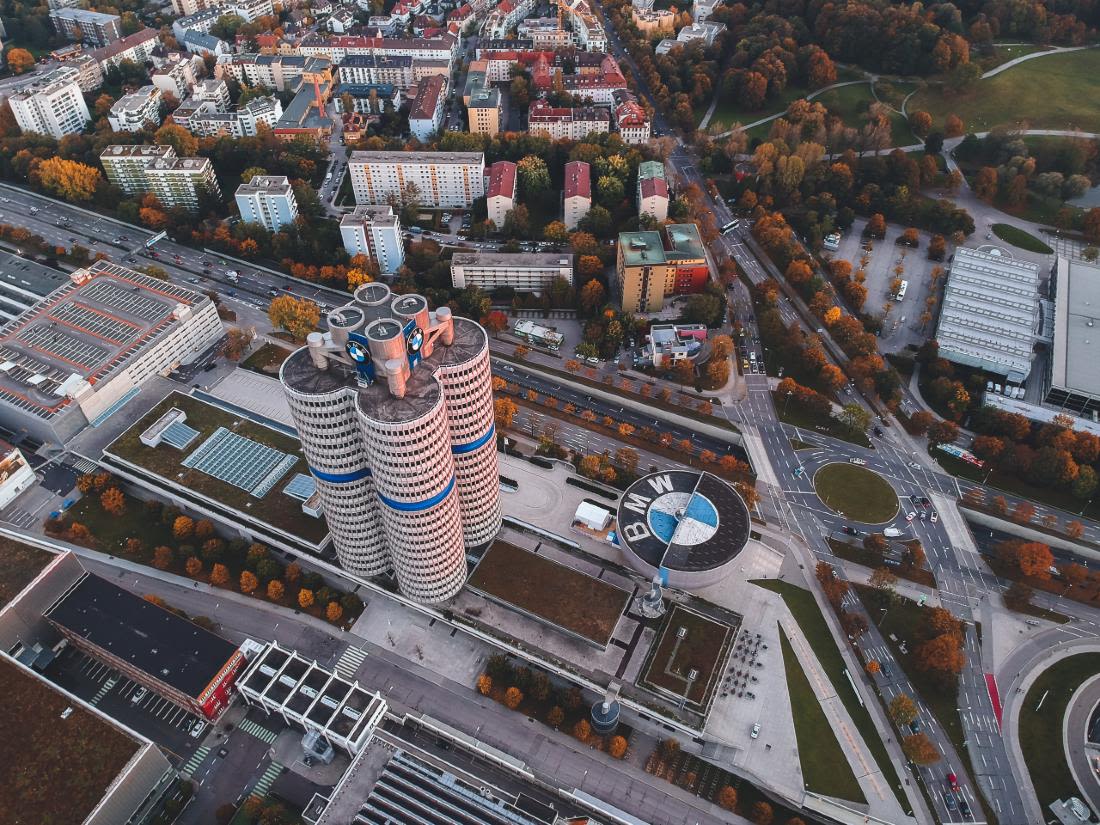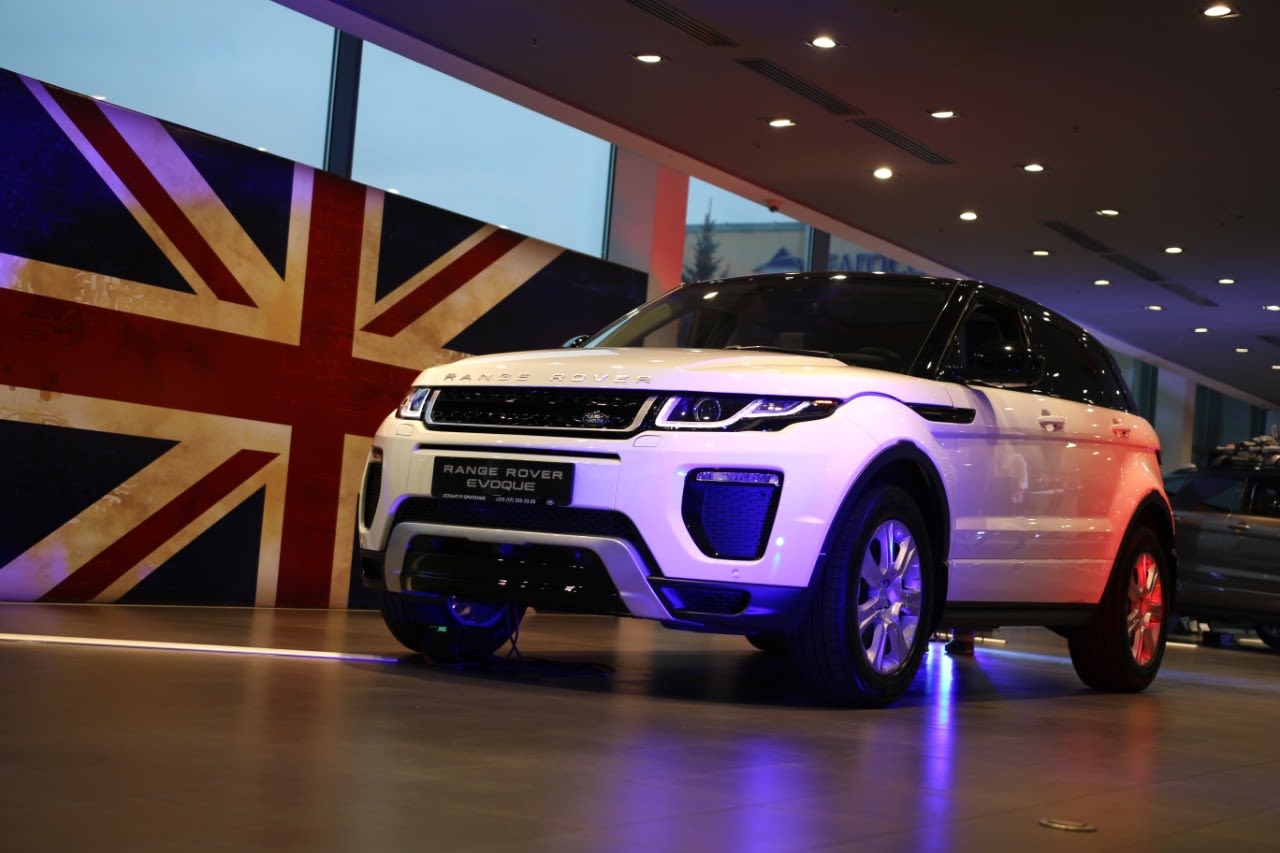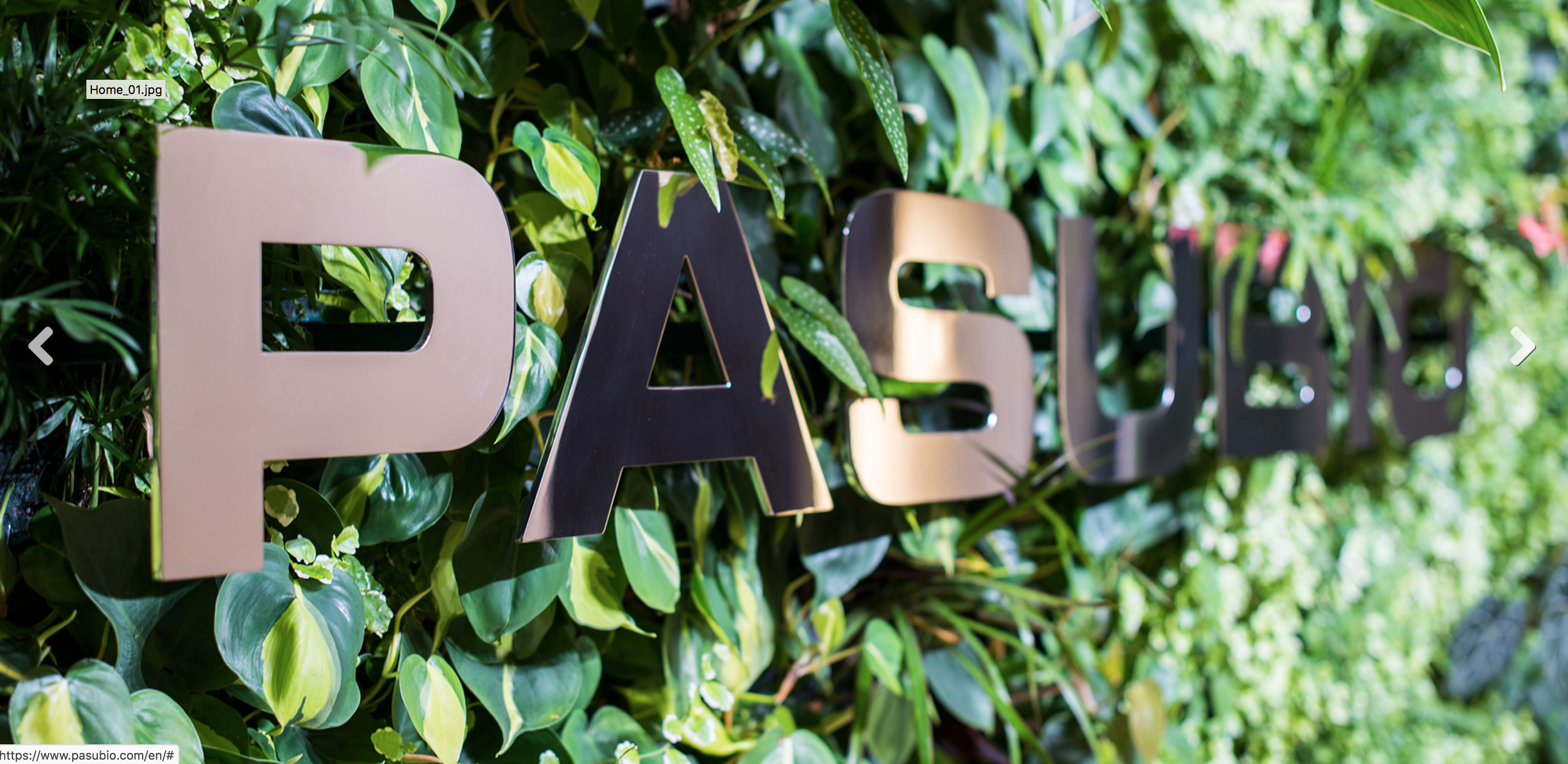 The Gran Chaco forests are vanishing faster than any other forests on earth. In Paraguay alone, an area larger than Switzerland had been lost by 2016.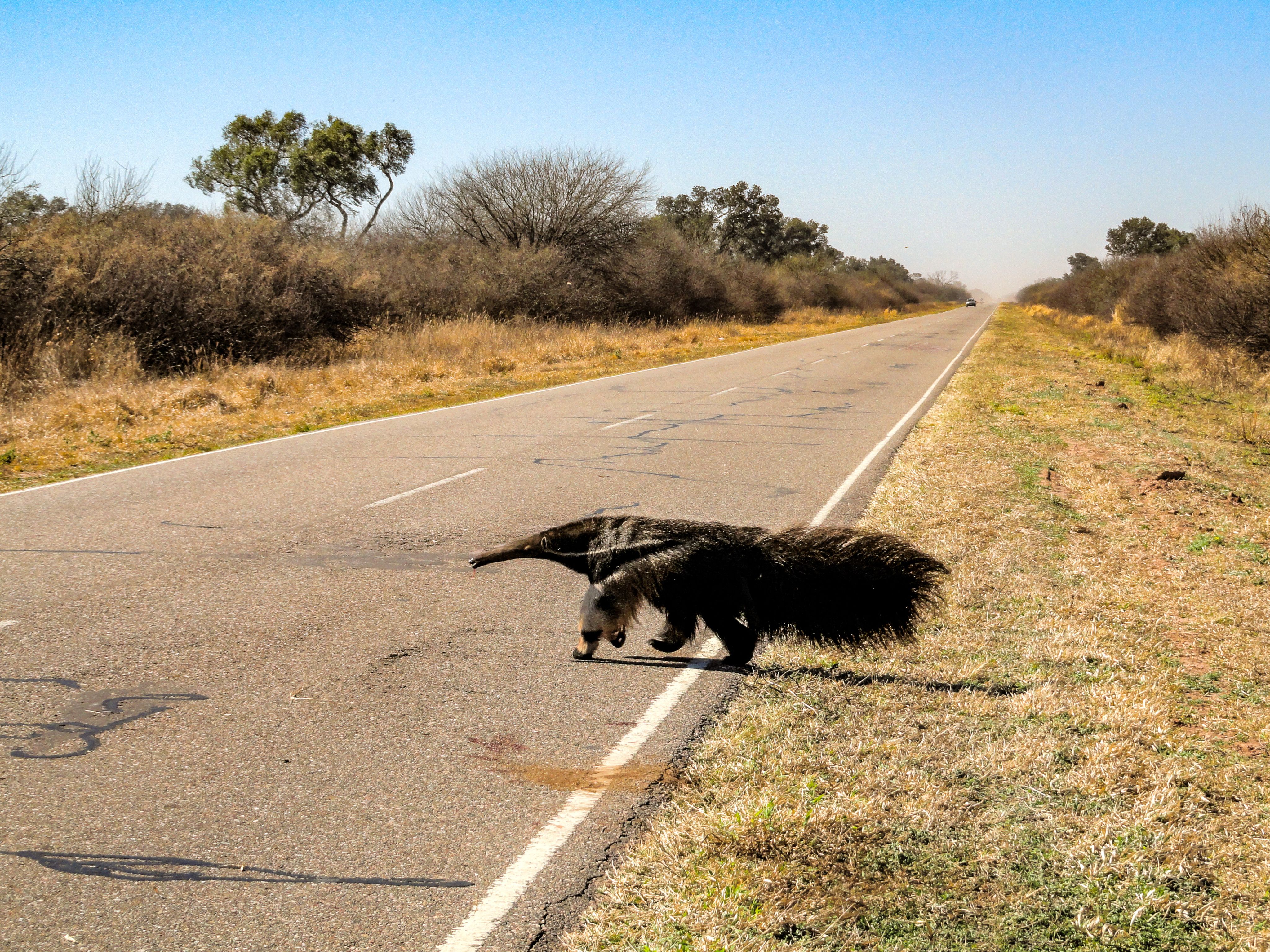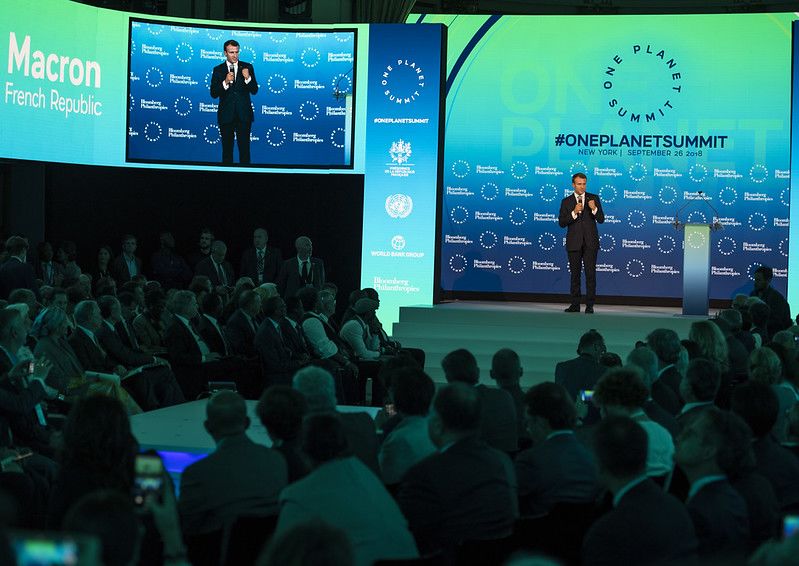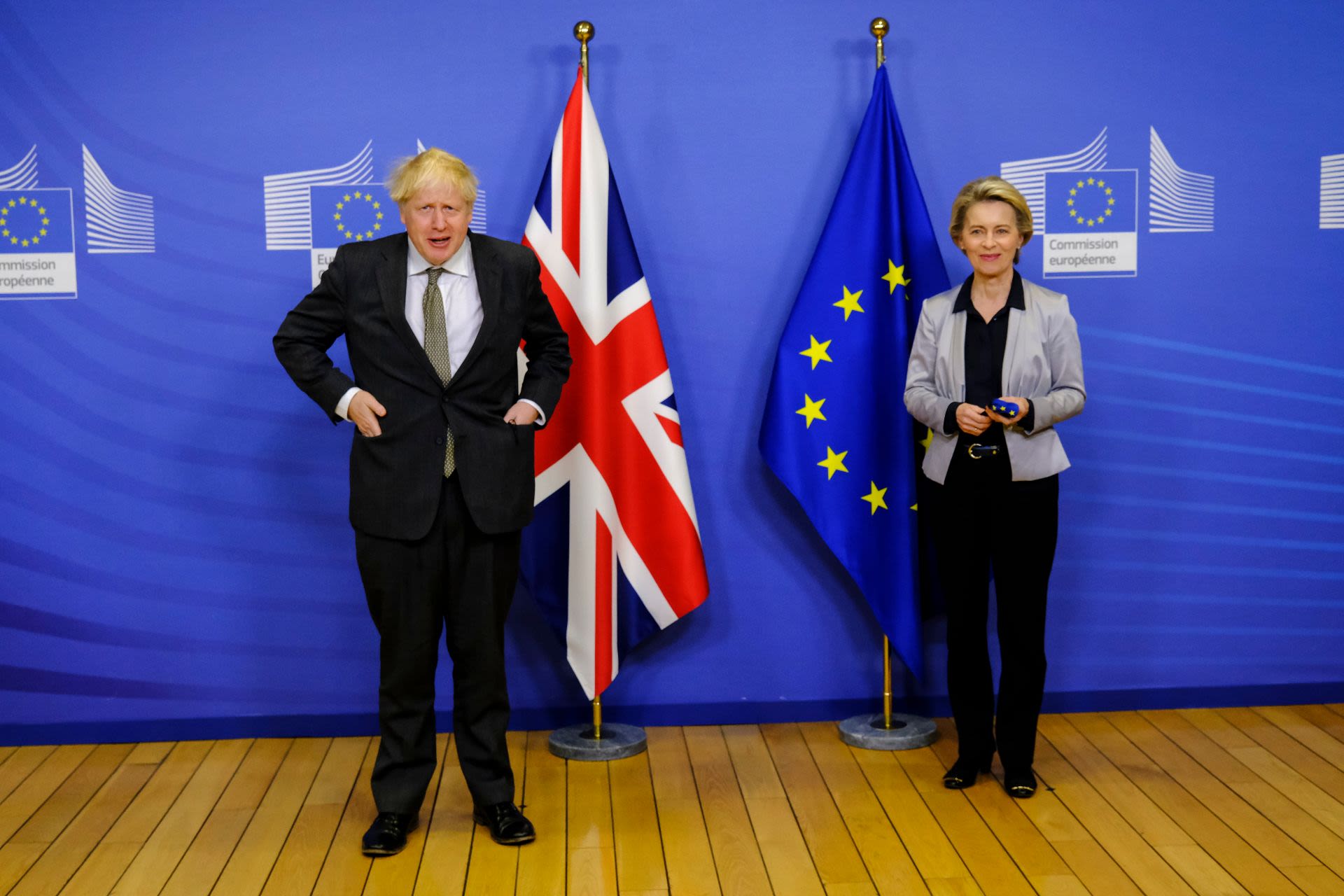 Meanwhile it turns out that halting the breakneck destruction of the Chaco for cattle rearing is more important for the planet than anyone had realised. In June 2021 the shocking news emerged that researchers at the Humboldt University of Berlin had found the Chaco stores up to 19 times more carbon than previously thought. 
Forest clearances in the biome between 1985 and 2013 resulted in over 800 million metric tons of carbon emissions. This puts the Chaco at a comparable level of emissions and contribution to climate change as other deforestation frontiers in the Amazon and South-East Asia. Researchers have called for more international attention to the biome's conservation, which remains neglected in the fight against climate change
In 2019 the French government spearheaded the creation of the Alliance for the Conservation of Rainforests, bringing together over two dozen countries – among them Paraguay – to discuss and coordinate actions on forest protection. It's not clear what role, if any, the Alliance could play in pressuring the Paraguayan government to enforce its conservation and indigenous rights laws. Earthsight submitted questions to the Alliance's secretariat but obtained no response. 
These recent findings underscore the urgent need for large consumer markets such as the EU, UK, and US to implement legally binding regulations to curb their ties to forest loss and indigenous rights violations abroad.
Lawmakers in all these consumer markets are currently debating legislation to make it compulsory for companies to better monitor their supply chains and ensure they are not contaminated by the illegal or unsustainable practices as the ones highlighted in Grand Theft Chaco and here. However, some concerns about these efforts remain.
The Environment Bill under debate in the British parliament is likely to leave indigenous communities unprotected. A number of MPs and peers have argued for the inclusion of customary indigenous land rights, but the government has refused to concede on this point. Secondary legislation will determine what commodities are covered, which will be a major test of the UK's efforts. If leather and other cattle products are not included, this would effectively mean that the UK retains an open-door policy for the types of abuses exposed by Earthsight.
In the EU, a European Parliament resolution clearly states that the "legal framework should cover the protection of human rights as well as the formal and customary rights of indigenous peoples and local communities in relation to the lands and resources involved in the harvesting, extraction and production of products." The European Commission should include such provisions in the regulatory proposal it will soon publish and that will be later debated by the European Parliament and Council. All three bodies must ensure indigenous land rights are addressed and leather included in the final regulations.
Earlier this year Germany passed its own supply chain legislation. Regrettably, it fell woefully short. Its narrow scope and focus on first tier suppliers mean German car firms are free to continue sourcing leather linked to tropical deforestation.
If they are to make a real contribution to forest conservation abroad, the EU and UK must be much bolder.