New slaughterhouses in the Brazilian Amazon approved for export increase US exposure to environmental crimes and underline the need for binding regulations to stem its illegal deforestation footprint overseas
Since the lifting of a ban on Brazilian raw beef imports in February 2020, the US has become increasingly exposed to the risk of imported illegal deforestation from the South American country.
As beef exports from Amazon states grow and more slaughterhouses in the region receive sanitary permits to sell to the American market, it is urgent that US importers are mandated to monitor their supply chains for environmental abuses.
In August, a slaughterhouse in Chupinguaia, state of Rondônia, appeared on the US Department of Agriculture list of Brazilian facilities licensed to export beef to the country. The facility in question belongs to Marfrig, a company among the largest beef exporters in the world along with other Brazilian giants JBS and Minerva.
Rondônia is one of Brazil's most heavily deforested Amazon states. It has been plagued by land grabbing and environmental backsliding by local authorities.
Marfrig Chupinguaia is the second slaughterhouse in Rondônia cleared for beef exports to the US. A JBS facility in Vilhena was licensed in 2016. They are joined by four other slaughterhouses in the Amazon authorised to ship beef to the American market: JBS in Confresa, Minerva in Paranatinga and Araguaína, and Vale Grande in Matupá. They were each granted licenses in the last four years, with the Vale Grande facility approved in December 2020. Except for Minerva Araguaína (Tocantins), all these are in Mato Grosso, a Brazilian state larger than Texas that straddles the Amazon and Cerrado biomes and is known for some of the highest levels of forest loss in Brazil.
These beef giants had been blocked from selling to the US for food safety reasons, not environmental ones. But the fact that meatpackers based in some of the most troublesome spots in the Brazilian Amazon have free access to the US market raises questions about the latter's ability to curb its complicity in illegal deforestation.
Marfrig Chupinguaia staff celebrate the facility's new license to export beef to the US. Credit: Marfrig/Facebook
A study conducted by conservation NGO Imazon ranks Rondônia and Mato Grosso among the top three Amazon states where slaughterhouses are most exposed to risk of deforestation in their cattle buying zones. All slaughterhouses in the Amazon currently licensed to export to the US ranked very high in Imazon's deforestation risk list. Other research has shown Marfrig Chupinguaia is significantly exposed to such risk, with more than 44,000 hectares of deforestation detected in its buying zone in 2019 and 2020.

Rondônia offers a clear illustration of such risks. The annual rate of deforestation in the state has soared from 435 km2 in 2010 to over 1,000 km2 today. Forest loss in Rondônia, mostly driven by cattle ranching, increased by over 100 per cent in July 2021 compared to the same month last year. The state is home to some of the most threatened protected areas in the country.
A recent study revealed that 94 per cent of deforestation in the Brazilian Amazon and Cerrado biomes are likely illegal. This level of illegality is laid bare by well-documented cases of cattle ranching within indigenous territories in Rondônia.

Rather than tackling these issues, Rondônia's legislators have made them worse. In April they approved a bill that reduced the size of Jaci-Paraná, a 200,000-hectare protected area, by nearly 90 per cent. Federal prosecutors say the bill is unconstitutional.
Deforestation of Amazon rainforest for cattle pasture in Rondônia. Credit: Shutterstock
Investigative outfit Reporter Brasil has found that nearly half of the legislators who approved the bill are either cattle ranchers or have received election donations from ranchers. It is estimated that 120,000 heads of cattle illegally graze in the area. The new law is seen as an amnesty to farmers who have for years invaded the area.

While deforestation in Rondônia continues to gather pace, so do its beef exports to the US: they are already up by nearly two thirds this year. Trade data analysed by Earthsight reveal that nearly a sixth of all Brazilian beef imported by US firms now comes from Amazon states. The US is currently Brazil's second most important beef market, after China.
For US buyers sourcing beef from the Amazon, making sure their imports are not tainted by illegal beef is an onerous task. Conservation organisations, including Earthsight, have repeatedly highlighted the lack of reliable tools available to importers to fully trace cattle back to farms of origin, including the ones that indirectly supply slaughterhouses by selling animals to fattening farms. Numerous investigations carried out by journalists and NGOs have revealed the persistent links between JBS, Minerva and Marfrig and tens of thousands of hectares of illegal Amazon deforestation.
In a letter sent to Earthsight, Minerva said it is committed to ensuring zero illegal deforestation in its supply chains by 2030. Early results from a new monitoring system it is piloting show that 99.8 per cent of the firm's direct suppliers in Mato Grosso and Rondônia are complying with its deforestation policy. But the biggest problem with beef supply chains in Brazil is indirect suppliers, and on that front the firm admitted it still faced a 'challenge'. (see Minerva's full response here)

Marfrig told Earthsight it is "absolutely convinced about the robustness of its monitoring system." But it also admitted that at present it is only able to monitor 62 per cent of its indirect suppliers, and that it was not planning to be fully deforestation-free until 2030. (see Marfrig's full response here)
JBS did not respond to Earthsight's questions on its sustainability practices, saying only it follows "the correct production, identification and segregation of its products through its traceability system."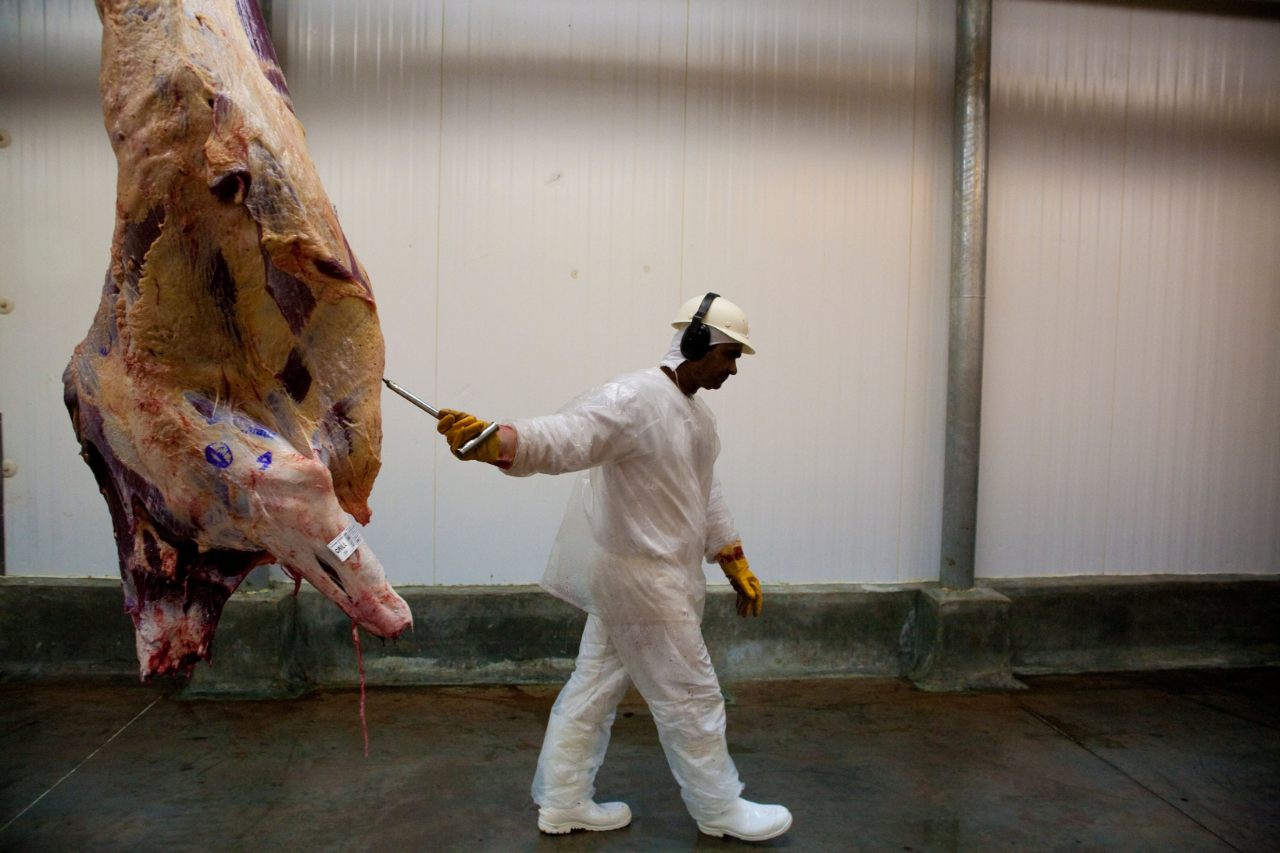 A Marfrig slaughterhouse in Mato Grosso, Brazil. Credit: Alamy
While it is essential for companies to develop and implement robust zero-deforestation policies, Earthsight has long argued that leaving this task to markets is not enough to avert the global climate and biodiversity crises. Experience shows that clean supply chains must be made compulsory.
A bill aimed at severing the country's ties to illegal deforestation overseas is expected to be considered by the US Congress shortly. It is essential that it is approved. But if it is to be effective, the details also matter.
The law must be ambitious in its scope, covering all relevant forest risk commodities and ensuring that businesses implement full traceability and transparency mechanisms. It must include truly dissuasive penalties, and ensure implementation is informed by lessons learned from existing laws on illegal timber in Europe and the US. Given the complexity of supply chains, the burden of proof must lie with the importers. They must be required to demonstrate that their goods are clean, rather than US authorities being expected to prove beyond doubt that a specific shipment is dirty.
Since it is not expected to cover legal deforestation, the planned law won't halt entirely the destruction US citizens are driving through their consumption of commodities like beef, leather, soy, and palm oil. But if implemented soon and in the right form, it could at least cut their ties to the worst abuses.