Using official data, Earthsight tracked changes to "intact forest landscapes" (IFLs) – undisturbed woodlands each at least 500 square kilometres (or 70,000 football pitches) in size – in BM Group concessions over a period covering nearly two decades.
100
The scale of IFLs means they support their native plant and animal life, store vast quantities of carbon and are more resilient to climate change. Those in the Russian taiga form a crucial habitat for brown bears, wolves and lynx.
101
Logging does not normally kill the entire ecosystem by breaking IFLs up, but will severely hurt it. And while total forest clearance is worse in the tropics, the rate of IFL loss (degradation) is much higher in world's northern boreal forests – nowhere more so than the Russian taiga.102
Earthsight mapped more than 20,000 square kilometres of mainly larch and spruce forest, though the company claimed a further 9,000 square kilometres at its height.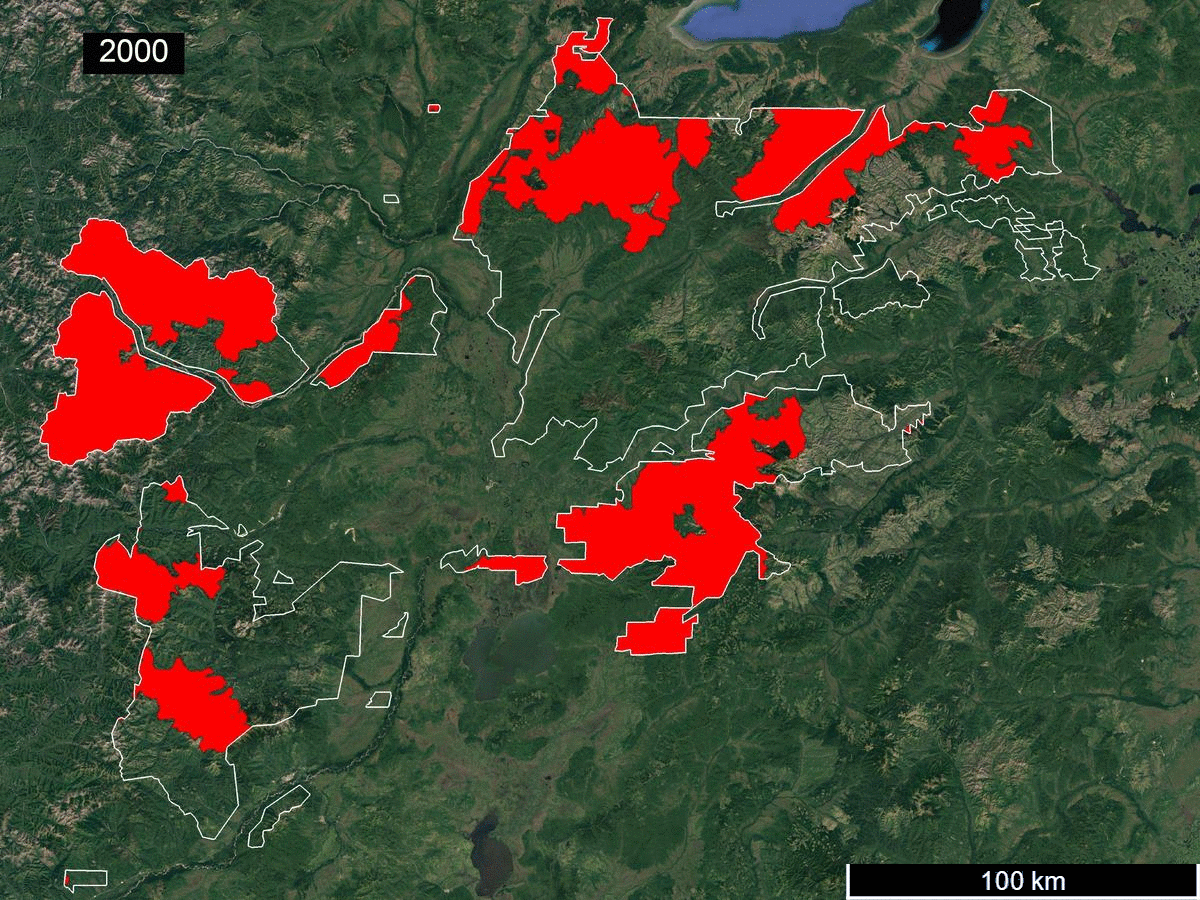 Earthsight gif of decline in IFL extent (red) in BM Group forest concessions (boundary marked in white). Data: Earthsight; Satellite imagery: Landsat/Copernicus
Our analysis shows that IFLs made up nearly 8,000 square kilometres (40 per cent) of this area when BM Group took control – including one small block of Asia Les-leased land within the range of the endangered Siberian tiger. Between 2008 and 2019, IFL area shrank by 18 per cent as a result of BM Group's logging activities – a loss roughly equivalent to the size of Greater London.
The rate of loss broadly followed the company's fortunes. Annual values for IFL reduction began to surge in 2008, the year BM Group received fresh forests for the newly designated priority project Amur Forest. Consumption grew with the number of state-backed ventures and peaked in 2011. Then, as the schemes ran into trouble and fell from favour, fewer and fewer new blocks fell victim to the chainsaws. But 2019 saw a dramatic resurgence as the company apparently raced to exploit its leases before they were lost.